Sarah Jones: The Face Behind Sanaa Design
WRITTEN BY ANIKA HORN | PILLAR OF BUSINESS: ISSUE 07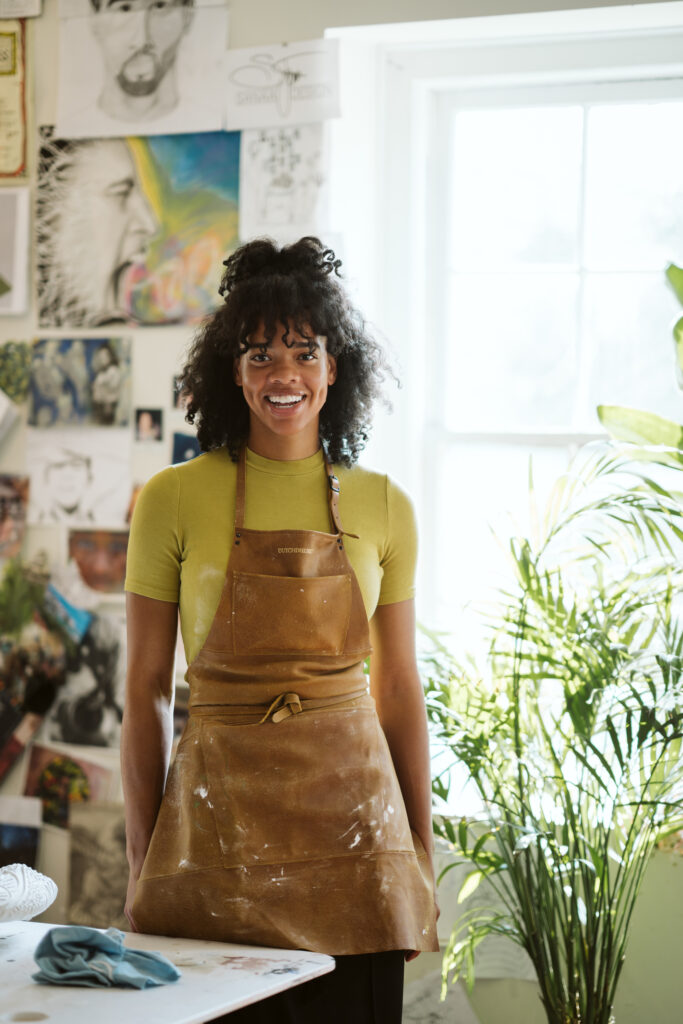 "I remember growing up, we ate dinner around a long table that fit all fifteen of us. My dad would read the Bible to us and the entire table would erupt into deep conversations about life, our values and the importance of family sticking together. I remember my older brothers and sisters having really intellectual questions. Me, on the other hand, I never felt like I was able to participate much in those conversations. But when I created something with my hands that spoke to how I felt and what I wanted to say, the conversation would come to a halt. By sharing what I had created, I felt like I could make myself seen and heard.", Sarah Jones attributes her approach to art to her upbringing in Staunton, Virginia.
Sarah Jones grew up as the middle child of thirteen in the heart of the Shenandoah Valley. Her parents raising a large family, there wasn't much room in the budget for after-school activities and camps. But that didn't stop Sarah or her siblings from pursuing their creative passions. In twelfth grade Sarah started a cake business from her mother's kitchen. Her passion for pastries and cakes propelled her into a career as a pastry chef that later took her to DC. "My mom, bless her heart, was raising a family and cooked meals for 13 children, but she just let me take over the kitchen whenever I needed it and create these ornate cakes for weddings and other occasions. I got so busy that I would sometimes work through the night. The kitchen was a constant mess but my mom stuck it out until I moved out and started making that mess in my own kitchen."
Sarah's first job outside of Staunton was as a head pastry chef for the National Science Foundation building in Alexandria. From there, she moved to D.C. to work for a renowned establishment, Paul, where she managed a larger team and developed new products for their East Coast operations. "I would work forty or fifty hours per week and then come home to my studio on Willow Street to make art for maybe ten hours. Because I had so little time to create on my own, I was already considering cutting my hours to part-time. Then the pandemic broke out and I was forced to stay home. Suddenly I was able to fully immerse myself in art and design full-time. It was an exciting opportunity and I took the leap."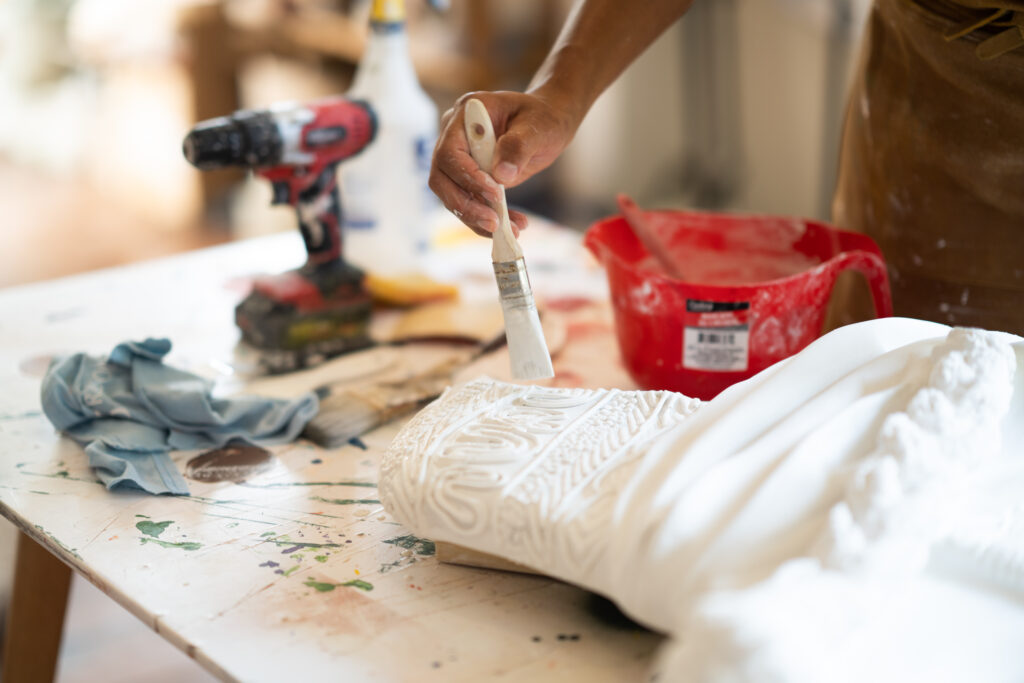 "I've always been infatuated with the idea of picking up a tool and seeing something appear on the other end of my hand."
When Sarah returned to the Shenandoah Valley in 2020, she set out to find a studio space of her own. She asked people who had warehouses whether they would let her rent a corner of their space. When she came across the rundown Dunsmore building in downtown Staunton, she thought she'd struck gold. The owner had other plans and offered her an even better space on West Beverly Street. Today, Sarah shares her studio with film producer Lysandra Peterson of Deep Structure Productions.
Art & Spirituality
In her studio Sarah uses different materials and sometimes falls back on her pastry skills to bring her pieces to life. But there's more to what her art embodies. "In my art practice, I choose to highlight my spirituality and the beauty of it. I often name my paintings and sculptures after scriptures, and it's amazing to see people come into my gallery, look at the label, and then pull out their phones to look up the scripture to understand the meaning behind the piece. My faith is a core part of who I am, and it was instilled in me since childhood. I've held on to it as an adult because I believe it has helped me succeed in life and given me strength during hard times. I believe that my art is an authentic expression of who I am. It's important for me to stay true to my core beliefs and create art that reflects my spirituality, regardless of societal norms or trends. I hope that my art can open people's minds to more spiritual things and encourage them to explore their own faith or spirituality."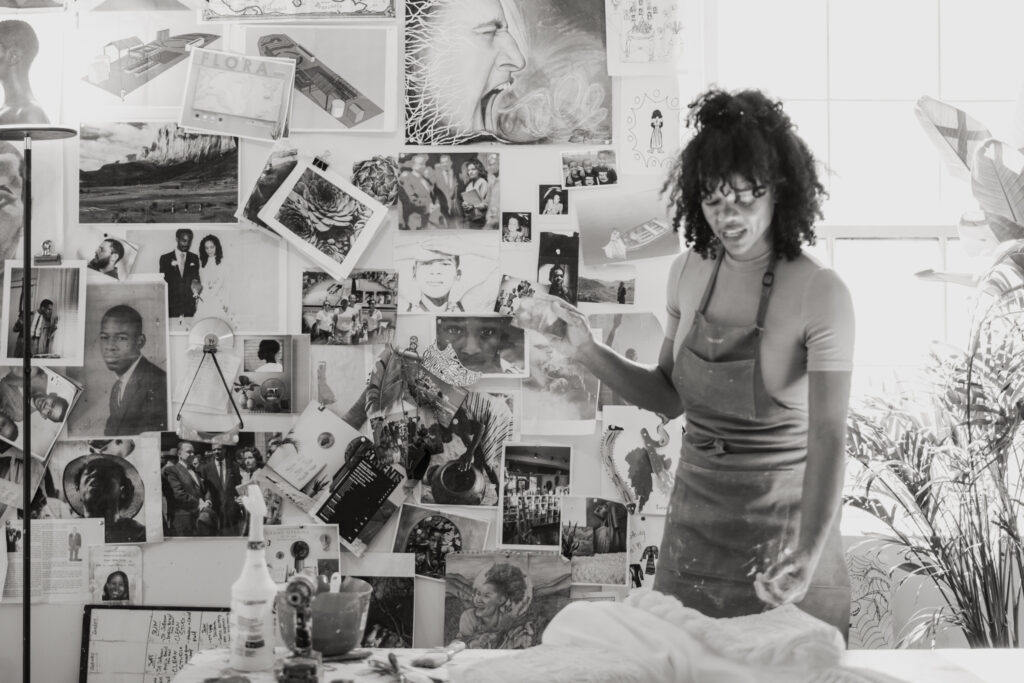 "Take fast hold of instruction; let her not go: keep her; for she is thy life."
Sarah's most recent sculpture features a female figure holding onto a banana leaf with one hand, while the other hand reaches out to grasp onto a beam of light. Her expression is determined and focused, symbolizing the importance of holding onto instruction and not letting it go. "I used different hues and tones of green to capture the beauty of nature and the representation of life. The woman in the sculpture is holding onto the banana leaf with one arm and looking straight at the viewer, creating an abstract approach to representing scripture. For me, the banana leaf represents life because it is a symbol of growth and vitality. The green color of the leaf represents the beauty of nature and the abundance of life. I wanted to create something that would be more interesting and thought-provoking rather than a direct representation of scripture. By using an abstract approach with the banana leaf, I challenge the viewer to interpret the sculpture and reflect on the concepts of instruction and life in their own way. It adds a layer of complexity to the artwork and makes it more engaging for the audience."
The big business of art in a small town
The entrepreneurial spirit runs deep in Sarah's family. Her great-grandfather was an entrepreneur in Washington, DC, where he ran a parking garage, a dry cleaners and delicatessen (in which her mother grew up working). Sarah's dad always did side jobs to bring in extra money and support the family. One of Sarah's brothers runs a carpentry business building and remodeling homes. One sister runs a landscape design company, another started Jones Gardens, (a nonprofit community garden in Staunton), yet another runs a communications consulting business. When it comes to the business of Sarah's art, she explains, "For me, success is not solely about money or recognition. It's about being able to do what I love – creating art. I feel like I've made it in a sense because I'm able to pursue my passion and do what I love every day. Of course, selling my art and making a living from it is important, but it's not the only measure of success for me. As long as I can continue creating and improving my craft, I consider myself successful."
In order to get noticed as an artist from Staunton, Sarah has to put herself out there and build relationships with galleries – a testament to her perseverance. Sarah has been leveraging her social media channels to reach out to different galleries and showcase her work. She also submits proposals and applications to exhibit on various websites that have open calls for artists. Her advice for aspiring artists in the Shenandoah Valley:
"Become so good at what you do that people can't ignore you. Find a mentor and focus on perfecting your art. Don't settle for doing things halfway, always strive to do your best. Success may take time, but if you're dedicated and passionate about your art, it will eventually pay off."