Dr. Hannah Plaugher, DVM Gives Us Insight On Keeping Our Babies Safe This Summer
PILLAR OF FAMILY: ISSUE 07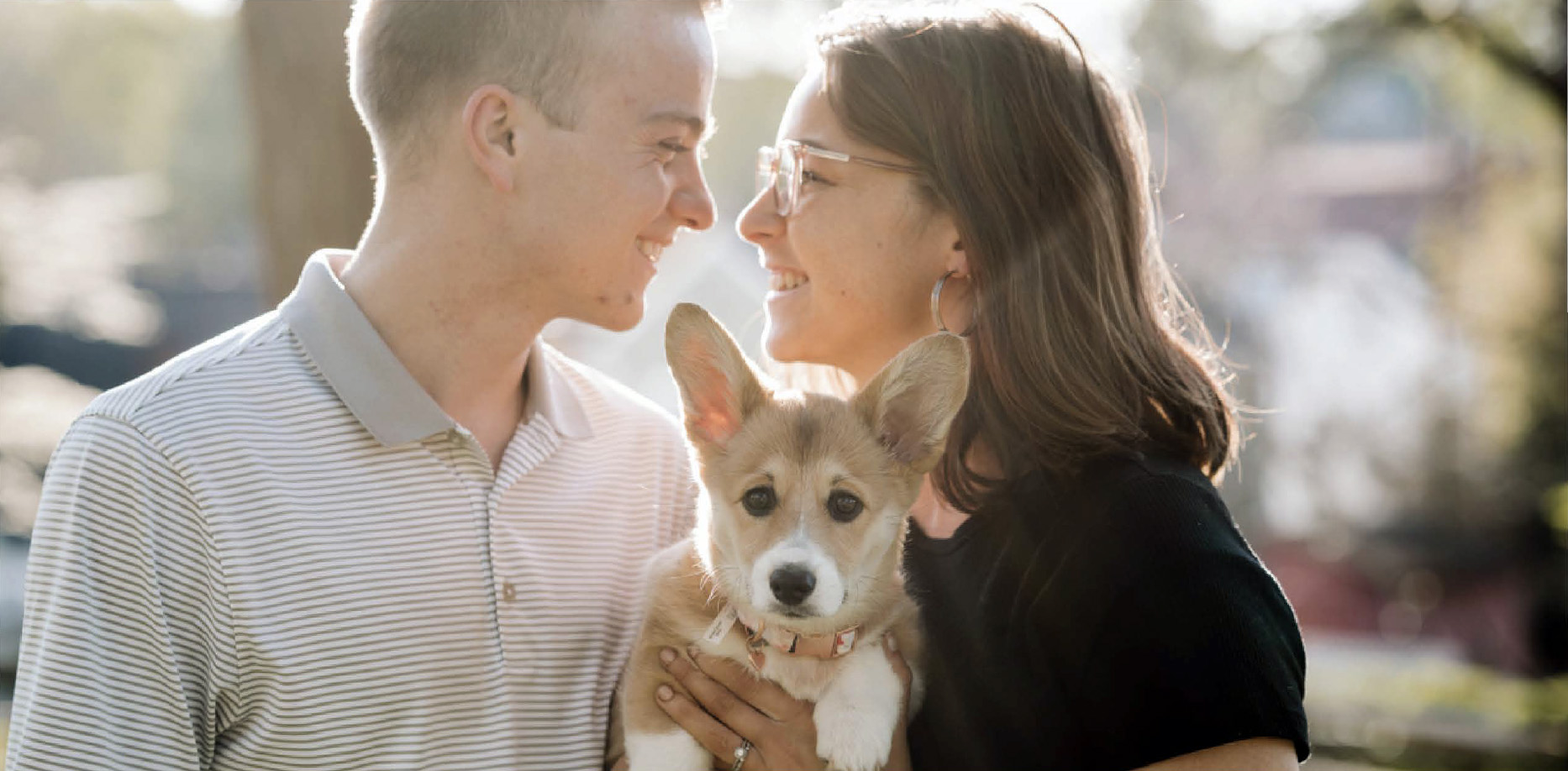 Summer is a time of sun, warmth, and outdoor adventures for both humans and their furry friends. However, as the temperature rises, it's important to remember that pets require special care to stay safe and happy during the summer months. Whether you have a dog, cat, or other small animals, here are some essential summer pet care tips from local veterinarian, Dr. Hannah Plaugher, to keep in mind.
Tips from a Local Animal Professional
What are some of the most common summer hazards that pets face?
SMALL ANIMALS:
Heat Stroke/Heat Stress
Thermal injuries from hot surfaces
Sunburn
Insect bites/stings
Ingestion of foreign or harmful objects ( corncobs, alcohol)
Noise phobia
(thunderstorms/fireworks)
Blue/green algae
LARGE ANIMALS (HORSES, CATTLE, GOATS/SHEEP, PIGS):
Heat stroke/heat stress
Water deprivation/salt toxicity
Trauma from fearful response to fireworks
Sunburn – horses
How can pet owners protect their furry friends from overheating in hot weather?
Small animal: The best way to prevent heat stroke/stress in cats and dogs is to try to avoid exposure to the high temperatures if at all possible. If you are unable to keep your pet indoors, it is important to provide adequate access to shade.
You always want to allow adequate access to fresh, cool to room temperature water. Keep walks to a minimum when the temperatures are high. This is important, not only to avoid the hot ambient temperatures, but also hot asphalt and concrete to prevent paw pad burns. Consider walking your pet in the early mornings or late evenings. Also, be sure to never leave them locked in a hot car, even with the windows down.
Large animal: Certainly bringing your livestock indoors isn't a practical option but you should be about to provide an adequate amount of shade to allow for all animals to get out of direct sunlight. You still want to allow access to fresh, clean water. Apply sunscreen to pink pigmented areas of horses, especially around eyes, nose, mouth, and around tail.
WHAT SHOULD PET OWNERS DO IF THEY SUSPECT THEIR PET IS SUFFERING FROM HEATSTROKE?
Signs of heatstroke include one or more of the following:
Excessive, rabid panting that does not slow down when pet is brought into shade or given water
Bright red tongue and gums (brighter than normal)
Body temperature of over 102.5 degrees
Confusion
Weakness, incoordination
Excessive drooling
Unconsciousness
If you suspect your pet may be overheating, the first thing your want to do is remove them from source of heat (get them into the shade or into a cool house), gently cover them with tepid or room temperature water (very cold water is not recommended), offer them water to drink, and then call your veterinarian right away.
HOW CAN PET OWNERS PROTECT THEIR PETS FROM PARASITES AND INSECTS DURING THE SUMMER MONTHS?

Parasites are always a huge concern in our furry family members. When the warm season hits, the top parasites that we see and hear complaints of from owners are definitely fleas and ticks.
Fleas and ticks cannot only cause severe itchiness and skin disease in our pets (and us), but they can also spread a variety of systemic diseases that can make humans and animals very sick. Heartworms and gastrointestinal parasites are also important to know about and prevent in our dogs and cats. Heartworms can cause life threatening cardiovascular damage while gastrointestinal parasites, such as whipworms, roundworms, hookworms, and tapeworms, can cause anywhere from miid to severe upset stomach, diarrhea, and weight loss. Some of these gastrointestinal parasites are even contagious to humans! Talk to your veterinarian about parasite control. Based off of the needs of your pet, your veterinarian will work with you to prescribe the best medication for your individual animal. There are many different forms of parasite control to ask about which include oral (taken by mouth often in the form of chews), topically, or even injectable.
HOW CAN PET OWNERS KEEP THEIR PETS CALM AND COMFORTABLE DURING THUNDERSTORMS AND FIREWORKS DISPLAYS?
My best advice is to PLAN AHEAD. If you anticipate fireworks nearby, be sure to secure your animals (small and large) in a safe space. Make sure that fences are properly secure or that your animals are safely indoors if possible. Turning on the television or the radio may act as a distraction if your pet is used to these. If your pet has high anxiety revolving around fireworks or thunderstorms, it may be best to consult with your veterinarian directly.
There are many different medications, supplements, and other types of natural products that are helpful in producing a calming effect to relax animals during these stressful events.
ARE THERE ANY PLANTS OR FOODS THAT ARE PARTICULARLY DANGEROUS FOR PETS DURING THE SUMMER?
Cookouts and BBOs are a summer favorite for almost everyone. It's important to keep some cookout favorites away from your furry friend as many of these can cause organ issue, an upset stomach, or even a gastrointestinal obstruction ( or blockage). This includes but is not limited to, corncobs, alcohol, grapes, chicken or rib bones, or even wood skewers from grilling.